Gym Flooring & Mats
An important addition to any home or commercial gym
---
A good foundation.
Gym flooring helps to keep everything hygienic, absorbs impact, improves safety and can make your gym look better too. Here at The Fitness Shop, we have a range of rubber gym flooring options for your gym to give it the look and feel you need.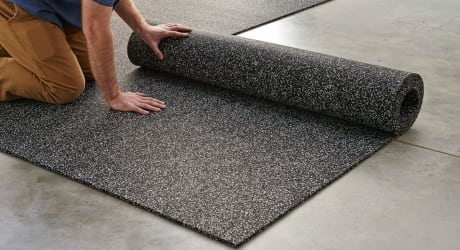 Types of Flooring Available
Greater absorption to protect your equipment
Non slip surface
Easier to clean than granule tiles
Can last up to 5 times longer than granule tiles
Durable, all weather sports surface
High Quality
High quality Commercial Rubber
Supplied to a majority of the big commercial suppliers and retailers around Australia.
Double sided for versatility
Sturdy interlocking removable edges
High Impact: Soft and shock absorbent to withstand high impact ground grappling
Benefits of Gym Flooring
There are several excellent reasons to have gym flooring and mats in your gym.:
You have a stable surface for physical activity, which is essential if you want to keep your gym safe.
Slip resistance and comfort to keep you on your feet
Easy to wipe down to keep clean.
Easy to store when you're not using them.
Very durable, so you can guarantee that they will withstand plenty of impact and last a long time.
Gym Flooring looks great!
Help from The Fitness Shop
If you are unsure about which gym flooring options are right for you, our talented team can help.
We can both offer advice and carry out gym flooring installation to get your floor and the rest of your gym into place.
Our gym flooring products include rubber gym mats, jigsaw mats and even sports turf to give you a range of options. We can help you to choose the best option for your gym, whether it's a small home gym or a larger commercial space.
Get in touch with us to find out more.